The Book Club
Books have been inspiring, educating, entertaining and delighting for thousands of years and luckily for us, amazing books continue to grace the bookshelves of stores, libraries and of course, homes.
Not only do they provide us with inspiration but they also act as wonderful accessories within the home.

Tricia Guild is a spectacular human. Colour and Guild go hand in hand, she is one of the world's most admired interior designers and a respected author too. In My View is an invitation for us to peer into her strong, expressive interiors, across two very unique addresses and approaches. The doors are generously swung open for us to experience her personal homes in Italy and London.
A juxtaposition in every sense, her Italian home is a reflection of a modernity among the olive trees, without compromise on soul or character. While her London home is an urban incubator for design ideas to support her company, Designers Guild. Across 303 beautiful pages, Tricia takes us on a journey with her preferred team; architect, Stephen Marshall, and garden designer, Anne Maynard. As a creative trio, they have embraced Tricia's passionate belief…
"The way we live - the interiors that we inhabit and the things we choose to surround ourselves with - have profound effect on our well-being and happiness."
This sentiment runs deeper than words on a page, Tricia finds it impossible to separate her work as a designer from other aspects of her life. And why should she? In seeking creative inspiration in her everyday, especially in things that bring pleasure to our lives, she is showing us how we can perfect the art of living. This book is not just for fellow industry folk, it's for anyone who grasps the notion that interiors have a strong influence on how we feel, our energy, positivity and happiness.
Fuelled by Italy's culture, landscape, architecture, food and creativity, Tricia has held an Italian address for many years. Leaving behind a rustic farmhouse, together with her family she found a new Italian love, with an irresistible canvas to create something contemporary. But while modernity might conjure up lacklustre colours, nil pattern or texture; Tricia has perfectly balanced decorative with minimal. Along with her architect and garden designer, they have confidently danced with colour and pattern, while paying homage to modern - Tricia's version of modern. The creative process and generous wisdom flows from Stephen, Anne and Tricia as they show us around this staggering property, set among the olive grove.
Meanwhile, her new London love is a Victorian townhose. Again teaming up with Stephen and Anne, she exposes her urban retreat. Life in the city is centered around her company, Designers Guild, which Tricia founded in 1970. This home is "sharply experimental", an incubator and testing ground for Designers Guild. Colours are put through their paces, we are shown a little of her working life, and educated on the merits of moodboards.
In My View is a beautiful book. In a very honest and heartfelt manner, it shares Tricia's personal choices that have shaped the way she lives. We hope you have the chance to read it and create your own special view.
Linen as a textile should have its own fan club – soft, breathable, eco-friendly, timeless… so when it's partnered with a beautiful book, it goes straight in my shopping basket. On the spine of Country Style Homes is a decadent bolt of linen, holding together weighty pages and photography that echoes homely love. The author has pitched it perfectly with this one – think rural charm meets intelligent story-telling.
Country Style Homes is crammed with stories of Australian rural homes, pulled together from past issues of an Aussie favourite, Country Style magazine. While the featured homes are across the ditch, it's very relatable to our own country lifestyle here in NZ.
What I love about this book is how the stories are less about the architectural features and more about the people who live in them. Within the rooms are a treasure trove of curios and family heirlooms, all conveying unique personalities and history.
The kinfolk inside the pages are a mix of artists, cooks, gardeners, collectors, historians and farmers - all with a tale to tell. The history, admiration and respect for their land is both heart-warming and fascinating. You'll read about a 17th Century Farmhouse, a colonial homestead, enchanting architecture and grand old dames beautifully restored.
From quaint pastoral hideaways to grand rural mansions, from off the grid coastal cottages to converted churches, from romantic retreats to everyday family nests - this book makes country living look so damn good. Of course, property names like Cherry Tree Cottage, Belgrove and Brockley Estate just sell it for me!
Enjoy a grand tour of the outdoors too, because a life on the land means wide open spaces. Many of the gardens in this book are not a supporting act, they are just as critical to the overall aesthetics of a property, matched with a thriving vegetable patch.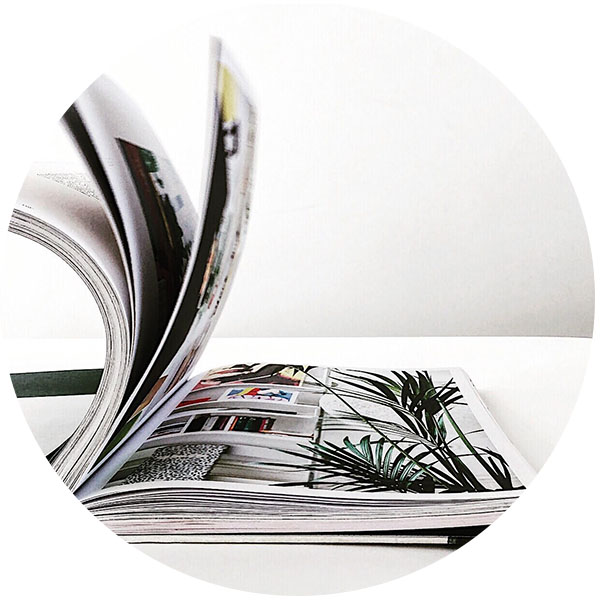 Your Urban Jungle Interior
As I piece together this review, I scan the room. All around me are little good-health crusaders, swathes of green, wonky shapes, air filters and new growth. Potted together in a variety of colour and form, I'm talking about an urban jungle of indoor plants.
Our obsession with botanicals in the home continues to grow (pun, sorry) and despite whether you're green fingered, or tend to mistreat your leafy friends, there's no denying the joy and sense of calm a plant provides. In our work they're often the final pop of magic to a well-designed room.
Wonderplants is a gorgeous collection of stories from Ho Chi Mihn to NYC and everywhere in between, showcasing how plants have been incorporated into twenty different homes. Matched with inspiring photography, the stories are partly practical – plenty lyrical. Beautifully written, you'll hear about the delight they bring each dweller, with advice on how to care, locate, flourish and create your own urban jungle.
In the book, I also respect the gentle reminder that plant life doesn't have to overwhelm in large numbers around the home - less can be just as effective.
Novice growers, relax! This book doesn't leave you out. Flick straight to the chapter on 'plants and their care' and you'll find the step-by-step guide incredibly helpful. Likewise, if you've fallen hard for a particular botanical, head for the index where each plant is easily identified… It's like a plant by numbers for the green fiend.
FACT - plants make you happier.
FACT - greenery calms the heart rate.
FACT - indoor plants improve air quality.
Truly, this enticing plant bible has delivered. Google tells me I can get to my local garden centre in 12mins, traffic clear… heading there now.
The House that Pinterest Built
Diane Keaton - actor, director, producer, and a recipient of an Academy Award, BAFTA, and two Golden Globes. Feeling slightly inadequate yet? Sorry to prick your bubble further, but she's also a photographer, real estate developer and singer too – and now she's giving our Book Club something to write about.
Are you guilty of falling into the Pinterest rabbit hole for hours on end, like us? What we love about this book is that it's just that - a book. There's something lovely about replacing clicks and swipes for real page turning. Yet it's also very cool to think Pinterest was the inspiration behind Keaton's 8,000sq ft home, from ideas to realisation in brick, stone, and wood.
Half of the book is dedicated to her carefully chosen pins, and the second part walks us through her home of 75,000 bricks plus an office in the backyard. Just a modest undertaking!
The book is an indulgent style guide for creating a home, a lively and thought provoking how-to. If you have a thing for typography, monochrome interiors and overflowing amounts of texture, you would ban coffee for this book. There is an insanely good use of black and white tonal images you'll never tire of.
For an illustrious movie star, the book is brimming with ideas and photos from Keaton's past homes and from those she admires. She's not stopped at the big rooms either, she's examined every little nook and corner, and we love that level of detailing – from pottery, art, book covers, light fittings and so on.
In her words; "Don't give up on yourself. So you make a mistake here and there; you do too much or you do too little. Just have fun. Smile. And keep putting on lipstick."
Check out her Pinterest boards, they're so damn inspiring.
I'm totally mad about this rare bird.
Close your eyes and picture oversized glasses, red lipstick and intoxicating outfits. Did Iris appear? Most of us know her face, dwarfed by those punchy glasses, "all the bigger to see you with my dear". Her red lipstick has a 'sit up and listen' powerful, glamourous quality, and she's perhaps the world's oldest living teenager (self-proclaimed).
"If you want to stay young, you have to think young." Now that's cool.
In her book, Iris writes about the unexpected moments - her lifelong journey in fashion, textile and interior design. One of those things she never expected to do was write a book. We're glad she did!
There's a lot of invigorating content packed into the pages. The story is meaningful, emotive and persuasive (I'm about ready to dig out my costume jewellery from 1985). Iris is 97 years young, but she simply doesn't think about age. Hers is a joyfully long marriage (67 yrs) and her zest for life is contagious.
I've been scanning a few YouTube videos and here's a couple of lovely things to tumble from those red lips; "There's so much sameness in the world… at least change your jewellery," and, "if it feels good here (she taps her heart), then I know it's right for me."
In Greek mythology, Iris is the personification of a rainbow – how very fitting.
Ideas for Meaningful Work
A series of stories from people who see work more than a simple job. Some with a single vision, some in a working partnership and some creating communities. Followed by a lengthy chapter of TIPS (worldly advice from workers in the know).
What I love, and why I regularly bury my head in this book is because of the stark contrasts in the entrepreneurial every day, and how they challenge us, or the daily grind of the sole charge self-employed who is sometimes seen / heard having a small chat with oneself (guilty).
None the less, this book is more than worthy of a read front to back, and I'd even go as far to say front to back again.
This book had me at; "A home is one of our most important creations. Within its frame, we create lifelong memories and manage our lives…" and, "Homes must not start with the end in mind.
While This is Home is a guidebook and pulls its readers back-to-basics for developing heartfelt interiors, it actually stirs a much deeper response. It reaffirmed a responsibility of defining exactly what makes a client feel happy at home. To help them live simply within its frame, and be 100% reflective of their personal needs and style. Natalie, and photographer, Chris Warnes, have nailed this thought and delivered it via a bunch of delicious case studies and stunning photography.
I think Natalie and Chris have created a little piece of style genius, and the book will now hold centre stage on my coffee table.
Smart. Informative. Beautiful – get your hands on it, or gift it to someone you treasure.
This is a coffee table treasure because it delivers on so many fronts, beautiful, informative, funny.
Ellen takes you on a journey of the homes she has lived in and loved, all the while introducing you to the artists and leaders in design who have inspired her.
Each home has its own character, but her gift is her ability to honour the buildings heritage while still making it her home.
Filled with photos, tips and information to inspire you, Ellen is keen to make your home as beautiful as hers is, possibly after you win Lotto but not to be ignored as she has ideas galore whatever your budget.
We love her, so we are nearly going to give her the last word.
"Don't hire an interior designer if you don't want to collaborate. Generally they are not a mute bunch"
Hmm...Harsh but fair.
We know you will enjoy it as much as we do.
If you would like to find out how Stylemaker can help you with your project, please contact us below.